Maori game: Poi Rakau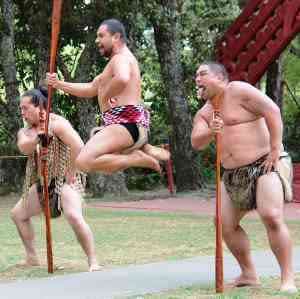 Poi Rakau was a training game for Maori warriors. But the skills trained and the fun for your kids trying something new makes it a good new game for you to try.


Requirements:
– Minimum of 2 players
– Enough space to throw sticks
– A Rakau (sticks) for every player
(a broomstick or long branch might do, just make sure what you use suits the players)


Skills trained:
– Speed
– Reflex
– Focus
How to play
Every kid is holding his Rakau. A game master is giving the commands:
Whaka te maui = move to the left
Whaka te matou = move to the right
The players stand in a circle. Depending on the command the players need move to the left or right trying to catch the Rakau on this side. If the stick falls to the ground before cached the player is eliminated and needs to step out of the circle.
It is not allowed to give the Rakau any direction but just let go when moving to the new spot.
Once a player is eliminated the players need to make a step forward making the circle smaller. The game master can at anytime let the players make the circle smaller or bigger if it is to easy/difficult to catch the Rakau.


Variations
Not having a Rakau, long stick or broom? Maybe your players are too young? How about using balloons?
Instead of trying to catch a falling Rakau the players need to catch the balloon before touching the earth.
Not the right game for you? Find more games on Amazon!*
Have fun playing the game – and don´t forget: Play with your kids!
*These links are affiliate links and play-with-your-kid.com might get a commission if you buy a product after using this link.