Ballon Pop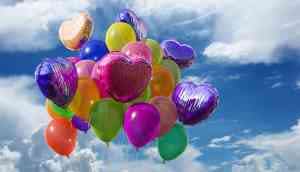 Balloon Pop is a easy game for your kids which can be both, a fun time-waster and instrument to learn. The title says it all – pop balloons.


Balloon Pop: Navigation & Content
After starting the app you can choose between unlocking the full version or go directly to the main menu. A math task needs to be solved before it´s possible to unlock the full (paid) version. When testing on a android device the free version did not have any advertisement but the full version will give you more balloon shapes and lets you pop all balloons.
In the main menu the game offers 5 different versions to play. Normal, Colors, A-Z, Shapes (not available in the free version) and 1-20. Select one of 11 languages to be used for the voice output when you pop certain balloons.  
Different game variations
Normal: In this version you will have to pop balloons which are fly upwards.
Colors: Pop different colored balloons and hear the color in the language you selected.
A-Z: Some of the balloons have letters inside which you can hear in the selected language after they pop. Also
Shapes: As the name suggests, you will have to pop different shaped balloons.
1-20: Hear the numbers in the selected language when you pop the balloons with the number.
Summary
This game is both, interesting time waster and a great tool to explore basic vocabulary in different languages. You will have to solve a simple math task before you can upgrade to the full version. If your kid is not good in math yet, they will not be able to purchase the full version!
Want to explore mobile games – click here.


Not the right game for you? Find more games on Amazon!*
Have fun playing the game – and don´t forget: Play with your kids!
*These links are affiliate links and play-with-your-kid.com might get a commission if you buy a product after using this link.
(Copyright: App Family Kids – Games for boys and girls)