Play the classic "Connect four" on your mobile device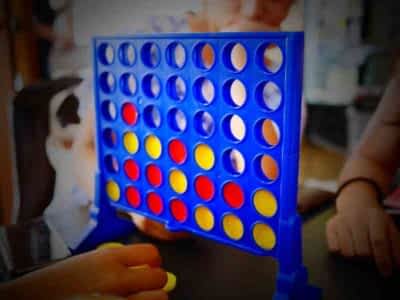 Play Connect four on your iOS or Android for free. Play this classic game against the computer or your friends. This game is well known and loved all around the world. This article will introduce different games and their characteristic from your favorite App-Store and don´t explain the rules. Ok ok, you have to connect four of your stones before your opponent does!
Play Connect Four for free on Android
You can play against the computer in six different difficulty levels, against a friend or use the online Multiplayer Modus. Don´t take too much time thinking while you play against a human player because you don´t clock is ticking. This app contains adds – make sure to read our article about how to mange the mobile experience for your kid.
Download for your Android Device
Play Connect Four on iOS
In this free to play Connect Four app you can remove the adds with an in App-Purchase of $0.99. Play against the computer or a friend and enjoy the game in a simple but fun design.
Download for your iOS Device
If you like the game but it lacks the challenge, try Connect Four (Cubic 4). Download Connect Four for your Android Device to challenge a your friends or a computer player in 4 Dimensions!
Play Coonect Four on your desktop PC
This website is not just teaching you mathematics ina fun way, it offers a online for your PC. Select between Easy, Medium and Hard or play against a friend. There is also a count to keeop track of how many times you have beaten the computer. But this is not all! Check out their version of Connect Three and Five. Oh, wait there is even more – play Four in a line (Drop). Just imagine what happends when you turn the game whole board.
Play now on your PC
Not the right game for you? Find more games on Amazon!*
Have fun playing the game – and don´t forget: Play with your kids!
*These links are affiliate links and play-with-your-kid.com might get a commission if you buy a product after using this link.