Yu-Gi-Oh! Duel Links – a strategic card game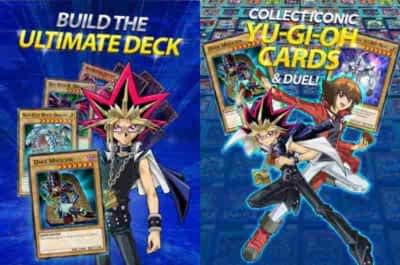 Yu-Gi-Oh! Duel Links is not just for kids as many adults will remember the famous anime Yu-Gi-Oh! and might want to start to play it with your kids. It is a strategic card game for the age 12+, available for Apple devices and Android. Even tough the game offers in-app purchases, it is not a pay-to-win game . Have fun without spending any money or buy some cards, support the producer and still lose a duel.
About Yu-Gi-Oh! Duel Links
You start the game with the main character Yami Yugi but can unlock different character through your gaming activity. So far this does not involve spending any money. At the start you will be given some cards to create your first deck with which you play against the computer or players from the whole world. There many ways to earn gem to get new cards or win them by participating in events or playing ranked duels. While playing the game, developing your character and collecting more cards, the game becomes even more interesting. With the broader range of cards the variations and different possible strategies increase. The result is, that even thinking about different strategies and arranging decks will be fun.
How to create a deck
In order to play you have to creat decks. A deck is a selection of cards (minimum 20) and is a mix of monster-, magic- and trap-cards. A good deck should have a good mix of all different card types. There is no "perfect deck" or combination, you will have to try and play. You will learn fast.
Advise: Add cards you were missing in your last duel. If you had too many trap cards and no monster to summon, adjust thhe ration of this cards.
How to duel
There are two ways to win a duel. Reduce the points of your opponent to 0 or if he runs out of cards.
Set your cards in your main-phase, then swith to the battle-phase and attack or defend yourself in your opponents battle phase.
Learn from your duels; victory or defeat, what worked good and what did not. Use this to optimize your deck and strategy!
Can I win against players who spend a lot of money?
A big advantage for Yu-Gi-Oh! Duel Links is, that even if you spend 0 USD, you will have a fun and chances to beat everyone in the game. Deck creation and a good strategy is very important. Of course it will be harder to win against someone who spend a lot money and has a broader range of (strong) cards. But as explained before, the game offers many ways to get cards. Don´t forget to manage the mobile experience for your kid, to prevent the unwanted purchase of too many cards.
Not the right game for you? Find more games on Amazon!*
Have fun playing the game – and don´t forget: Play with your kids!

*These links are affiliate links and play-with-your-kid.com might get a commission if you buy a product after using this link.